IT'S NOT JUST DIET, IT'S A LIFESTYLE
Diet: I hate it. This is two minutes of hate.

Why is it so tense with me? Why do I feel like like I'm taking on another part-time job, working as an unpaid intern for My Fitness Pal? ? When does eating and drinking become enemies? I even get advices to no longer feel delicious with all I eat! Eat without feeling delicious? My life is not happy anymore! So I need to change. Can not ban me not, absolutely can not forbid me not to eat my favorite foods again.
This is no just a diet. This is a lifestyle.
This is not a diet. This is a lifestyle–a thin lifestyle. A diet will shave a few pounds off, until you decide, "Mission accomplished! Diet over!" and a few weeks later, end up right where you started. A lifestyle will keep you thin for the duration of it–your life, that is.
The "French Paradox" was regarded as "a miracle" for so many years. I spent a little time in Paris when I was in college, and I noticed a lot of value to share. Not just because of what the French eat differ we do, but the way they eat them. Food, for them, is a lifestyle, is not a thing to control, not to take revenge, not a chore.
Here are ways that lead us to a better lifestyle - a healthy lifestyle. They are really quite simple.


1. 1. SLOW THE EF DOWN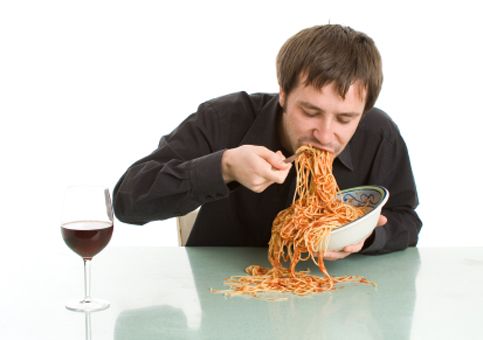 Unless you are in the wilderness or jail, no one is going to take your food. Slow the eff down! You should never feel like you have to catch your breath when eating. You probably shouldn't be sweating, either. Eating should not be considered cardiovascular exercise. Take small bites. Chew. Talk. Drink [water]. Take another bite. Chew. Talk about how awesome the food I made you was.
When you make eating an experience, rather than a chore, you're more likely to enjoy it. Because who enjoys chores? Food is one of the greatest pleasures of life, so, seriously, take the time to enjoy it. You'll eat slower, and you'll need to eat less.
2. 2. NEVER EAT ALONE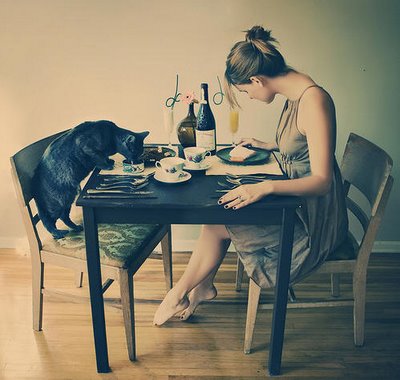 The cat does not count as a company. There are tiny worms called C. elegans show significant behavior of human beings. Specific? Only a 1% of them eat alone. For humans, like tiny worms, eating is social. Again, it's not a chore, and you should not just stand watching television shows while tasting. Sit down. Eat slowly. Eat with people. When you have someone to talk to and look at, you will find find yourself eating more slowly and eating less. This, again, is making eating an experience.
3. ORDER THE SMALL
Small portions are considered to be one of the keys to the success of French women. Wouldn't we rather eat an entire box of Snackwell's devil food cookies than one perfectly rich, real, but small piece of chocolate fudge cake? More is not always more. Eat smaller portions of better stuff. Two outcomes: a better BMI and a better quality of life. What's to lose?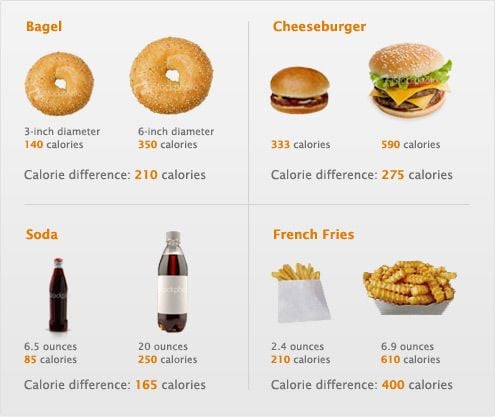 As I'm sure you know, our portion sizes have gotten completely out of control How much do 210 calories really matter? I'll tell you. That's one pound every 16.67 days.
If you consume all of the four larger portions, however, that's one pound every 3.33 days. Let me repeat that.
If you eat these four larger portions, that's one pound every 3.33 days.
How can you avoid this? Cook at home, so you can control your portions. Eat on smaller plates, ideally a different color than your food. Studies have shown that eating on bigger plates tricks you into eating more.. and eating on a plate the same color as your food tricks your brain into not totally knowing what you've eaten, so you eat more.
If you're eating out, order a kid's size. If you eat slowly, and enjoy your food, you will be fine, I promise. If you can't get a kid's size portion of what you want, as soon as you get your food, section off what you will eat at this meal–what is reasonable–and take the rest home. No waiter will be shocked if you ask them for a to-go box as soon as you get your food.
Learn correct portion sizes. This works well for me
4. EAT
Starving yourself shuts down your metabolism, causing your weight loss to plateau or completely halt. Your body needs food to rev its metabolism, so make sure you eat. Eat three meals a day. If you need something in between your meals, reach for something that can grow and rot. Promiscuous snacking can lead you back to the overweight lifestyle you worked so hard to leave, so if you're going to snack, it really ought to be healthy, whole foods.
(To be continued)
(By THE THIN LIFESTYLE)